HeartsHerd Animal Sanctuary and Rescue Center is a 501C3 non-profit organization located on 21.75 acres of beautiful property in Buskirk, NY. Tending to a variety of animals who have lost their owners, run their course for their owner's purpose, or just plain ol' need love – our Herd continues to grow.
Click here to view all of our adoptable pets at once. Click on the pet's name below for more details.
Application Form to foster/adopt our pets.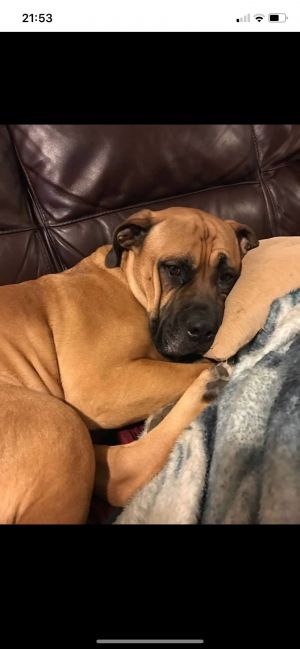 Cruz is still looking for his fur-ever home. ?? He's a 6 yr "young" Mastiff mix that needs your love. All he needs is a 1 or 2 short walks or a fenced yard then he's content to be a couch potato. He needs a calm home without small children because they make him nervous. He does like cats however we'd like him to be in a home as a solo dog because he is unsure of them since he was attacked when he was a pup. He needs a slow introduction to new people and he doesn't do well with some males that he just meets; however he lived in a home with a couple so once he gets familiar with the environment, he's good. Can you give him what he needs so he can settle in to a permanent home? He deserves it. ?? Anyone interested, please contact us at info@heartsherd.com or to fill out an application: www.heartsherd.com/forms. PLEASE SHARE his story. Thanks!
Adult, Male, Not known
SPECIAL REPORT: Featuring our latest additions to the sanctuary, Ollie and Sunny! Read their mooo-ving story about how Sunny became Ollie's "seeing eye cow"!
---
Donate safely and easily to help any of our domestic or farm animals in need. Learn how you can help by participating in our fundraisers, volunteering or donating.
---