HeartsHerd Animal Sanctuary and Rescue Center is a 501C3 non-profit organization located on 21.75 acres of beautiful property in Buskirk, NY. Tending to a variety of animals who have lost their owners, run their course for their owner's purpose, or just plain ol' need love – our Herd continues to grow.
Click here to view all of our adoptable pets at once. Click on the pet's name below for more details.
Application Form to foster/adopt our pets.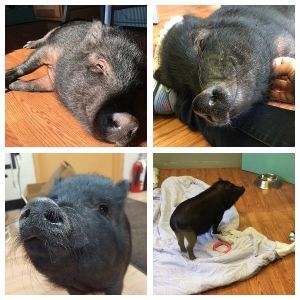 My name is Pepper. I'm a 1 year old neutered(male), friendly pig who wants to go go go! I weigh 45lbs currently and will weigh more as I grow to approx 75lbs. Let me say first that I am an indoor pet that likes some outdoor time. I like to root around and do zoomies because I am young & energetic. I flip over my water dish a lot because I think it's fun! When I'm bored I like to get into things so it's good to always keep an eye on me when I'm out to play and learn, using my food for teachable moments or enrichment with my rooting mat or balls and toys is a great way to keep me properly amused. Otherwise if I don't have interactive things to occupy my time, I may take off the trim in the hall or chew on the carpet or flip over the garbage can ?. I don't know any better because I'm a pig. I'm sensitive so there is no need to yell at me, simply give me something to do ?. I'm crate trained and when your not able to watch me it's a good idea to have me rest in there. I'm sort of potty trained, meaning if you designate a spot I'll go there and learn over time that that's the spot I to go on using pee pads. Making me a giant litter box wouldn't be a bad idea, unless there is easy access to going outside; you can work on teaching me that. I love to sun bathe, and get belly scratches! I know how to sit, sit pretty and turn. I love the game chase too. If you think you'd be a good home for me please let us know. You can come visit and meet me; a home visit is required. Should you ever need to go away on vacation I am good at boarding at my foster's business (Cody Cozy's Pals in Colonie) anytime! Serious inquiries only. To apply: www.heartsherd.com/forms
Young, Male, Medium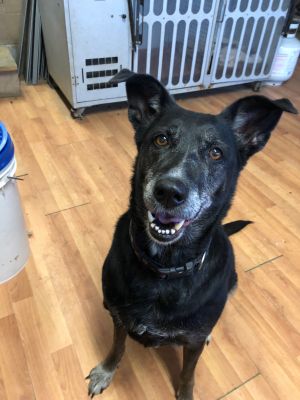 Meet JADE! She was adopted by our rescue a few years ago but sadly her owner passed away. She was in such a wonderful home and now she resides at a boarding facility. She is a sweet girl however she prefers to be the diva dog of the household so we want to find a home where she is the only dog. She is not aggressive to dogs that she encounters in the community! We are unsure how she will do with cats but a meet and greet can be done. Also, she will do best in a home with teens and older. Please ask us how to make Jade a part of your home.
Adult, Female, Large
SPECIAL REPORT: Featuring our latest additions to the sanctuary, Ollie and Sunny! Read their mooo-ving story about how Sunny became Ollie's "seeing eye cow"!
---
Donate safely and easily to help any of our domestic or farm animals in need. Learn how you can help by participating in our fundraisers, volunteering or donating.
---